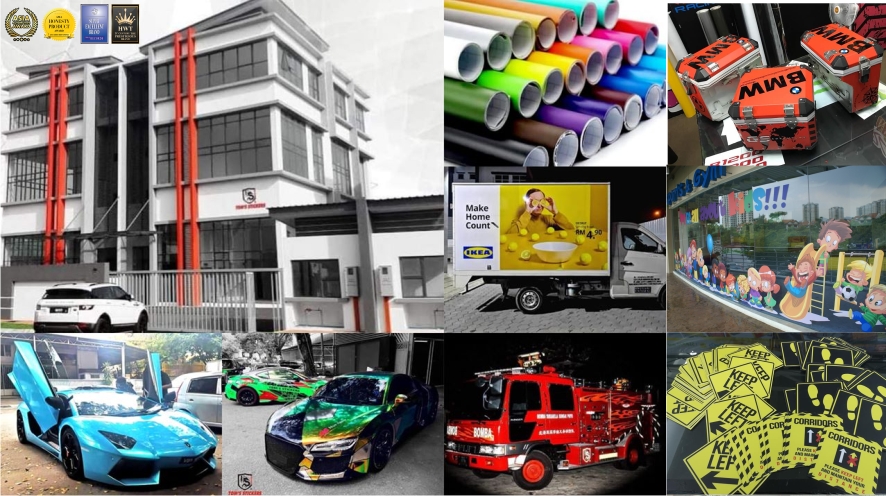 Tom's Stickers was founded in year 2003 with expertise lies on various range of comprehensive graphic designed stickers, especially supporting our customers' products and services expansion by exposure through stickers wrap for vehicles advertising. We have groups of dedicated in-house professional designers, production team, installation team, and customers' service team providing efficient and responsive services from conceptual, designing, output to installation work.
In year 2006, Tom's Stickers has been awarded with "Asia Pacific Super Excellent Brand" by Asia Entrepreneur Alliance Worldwide (AEAW), a non for profit business organization with members comprising of CEO from Asia Pacific countries. The award was honored for our excellence in performance, conformity of products and services, assurance of quality, safety, reliability of products and services.
In year 2012, Tom's Stickers had awarded "21st Century The Prestigious Brand" by Asia Excellent Entrepreneur Federation to distinguish our strong and stable Company, with excellent performance in all area, including development of quality, minded culture, social responsibility, innovative marketing strategies, honest business practices, product research and development, and operation efficiency.
In year 2013, Tom's Stickers had awarded "Asia Honesty Product Award" by Asia Excellent Entrepreneur Federation, for produce outstanding products in the market with quality and guaranteed by credit, possess products with verification, validation and qualification, adhering "Stress quality, focus on create famous brand".
In year 2019, Tom's Stickers had further awarded "Inspiring Corporate SME Award" during Asia Automotive Award Night 2019 organized by Motonation, supported by MIDA and SME Corporation. The award recognized us for our outstanding products and services in automotive related industry in Asia countries. Nominees for the award were from Malaysia, Thailand, Japan, Indonesia, Taiwan, Singapore and Philippines.
Tom's Stickers leads the way in developing innovative and brilliant designs of stickers. Our products ranges -- AdverStick (for mobile or non-mobile vehicles), Decal Stick (for readymade and custom made vehicles stickers), DecoStick (for premises decorative stickers), IdeaStick (for education and imagination stickers) as well as other multipurpose printed design stickers. Tom's Stickers deliver a complete line of highly scalable products that grow to meet the requirements every customers, from smallest individual customers to the largest global enterprises.



At Tom's Stickers, we do not compromise on quality assurance and customer satisfaction. Our corporate values emphasize the importance of striving to be a valued and trusted partner to our customers. Based on those values, we also approach business thinking about our customers' customers, and continuously strengthening in global structure with the advance of globalization and the growth of emerging markets. These had also made Tom's stickers First Malaysia On line Stickers Superstore.
Tom's Stickers prospers with a successful mission and vision besides offering wider range of quality products and services to customers. Guided by our corporate vision of the constant pursuit of innovation, we are working with our customers to support their success and shape a prosperous tomorrow for all of society. To comply with our mission, we believe that we would be able to produce more original yet inspiring, imaginative and artistic stickers to satisfy and be attuned to the needs of everyone, everywhere.